We Can Power Wash your Roof - Interested?
Cleaning your roof regularly helps preserve the life of roof's shingles and tiles.
Is Your Roof in Need of Desperate Cleaning?
The benefits it offers your roof include: removal of damaging grime, spot, grit, algae, and moss. It also helps restore the color of the roof. To ensure you're able to protect your roof, there's a lot you need to know about residential roof cleaning in Midlothian VA. You should consult with professional roof cleaning contractors to ensure that you maintain the longevity of your house, in particular your roof.
What to look for when hiring a residential roof company.
Knowing what to look for when hiring power wash contractors is not always as straightforward as one might initially expect. You can use the following tips when hiring one:
Ensure they have the required credentials or qualifications. The company should have insurance coverage for the employees.
The company should have integrity, one with integrity offers you a guarantee of satisfaction.
Should be flexible enough to work within your schedule and accommodate your timeline.
Do your research about the best supplies and equipment, then compare that to the equipment the company uses.
Qualities to look out for in a roof pressure washer.
We have the best equipment when it comes to residential roof cleaning. The following are some qualities of an excellent pressure washer:
Gas powered roof pressure washer models perform better than electric ones. However, more pressure can increase the risk of an injury, especially with the glass models.
Gas powered washers emit 2,000-2,800 psi, compared to 1,300-1,700 psi put out by electric models. Gas models clean better, but should be used with extra caution.
Faster models usually produce much noise within a threshold at which hearing protection is recommended.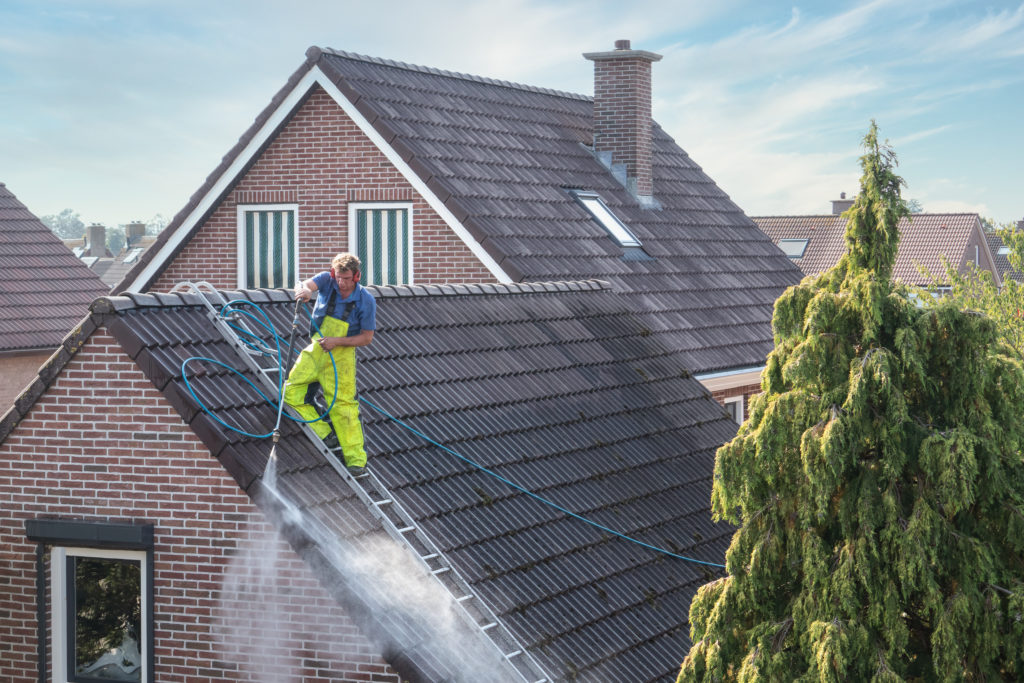 What are the typical services provided by roof power washers?
The following are the common services you can expect from our roof power washing company in Midlothian VA:
Cleaning your roofs using the pressure washing method
Getting rid of damaging algae, moss and other debris
Use of soft wash systems for cleaning old roofs
Help reveal the repairs that need to be done in a building
Clean built-up grit, slit, dirt, dust, and grime
The best type of roof power wash.
An excellent roof power washer should:
Use chemicals that are environmentally friendly. A contractor should consider the impact the chemicals chosen have on the surroundings.
Contact us now for a free quote?
Should have surface cleaning versatility. Instead of having multiple contractors do different jobs, hire a roof power washer adept at a mixture of cleaning techniques and services.
Have proper knowledge and experience with roofing materials, and will not compromise the protection the roof provides the home.